Seitdem wir ins Haus eingezogen sind, habe ich nach einem passenden Esstisch gesucht, aber entweder gefiel er nicht oder war preislich drueber. So hatte Andreas damals erstmal fuer die "Uebergangszeit" einen selbst gebaut, der uns auch 1,5 Jahre gute Dienste geleistet hat.
Ever since we moved into our mountain home I was looking for a dining table which would fit the style. I wasn't very lucky, either I didn't like the tables we saw or they simply have been too expensive. Right after we moved in Andreas built a table himself for he "interim period" which we used for the past 1.5 years.
Im Maerz 2018 bin ich dann durch Zufall fuendig geworden. Andreas war im Baumarkt neue Holzpallets kaufen, so nutzte ich die Zeit im benachbarten Moebelhaus kurz durchzuschlendern. Eigentlich hatte ich nach was anderem geschaut und dann einen Tisch samt passender Bank entdeckt, dazu zu einem passenden Preis. Da sowohl Bank als auch Tisch aus sehr massivem Holz und Metall bestehen, wir es kaum anheben konnten und noch weniger Lust hatten, dass dann bei uns die Treppen hochzutragen, haben wir die Lieferung dazu gekauft. Beste Entscheidung da wir gesehen haben, wie selbst die beiden Moebellieferanten geschwitzt und geaechzt haben.
In March 2018 I finally found one by accident. Andreas was at Lowes to purchase new wood pellets, so I took a short stroll through the neighboring furniture store. Originally I was looking for something different when I stumped upon the table and a matching bench, both for an acceptable price. We also purchased the home delivery since table and bench have been very heavy. That was a wise decision as we noticed how much trouble and heavy breathing the two delivery guys had to get the table and bench upstairs.
Tisch und Bank sind aus Akazienholz
table and bench are made of acacia
und das ist, was sich sonst noch auf dem Tisch befindet/
what else is on the table
Serviettenhalter + Salz- & Pfefferstreuer/
napkins + salt and pepper shaker
kleiner Laeufer mit Teelichthalter/
small table runner and candle holder
Untersetzer mit abgewandelter Colorado Flagge/
coasters with a twist on the Colorado state flag
fuer die andere Seite ueberlege ich nun noch 2 Stuehle zu kaufen im Eames Stil, einfach als kleinen Stilbruch
the two chairs I'm thinking to replace with this kind of Eames chairs, just to have a little break in style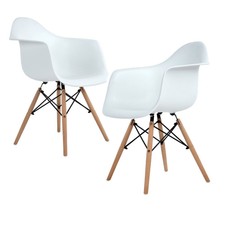 source: https://i.ebayimg.com/thumbs/images/g/VMsAAOSws19ZgtGP/s-l225.jpg