Am 16.03. war es endlich soweit, nach knapp 2 Jahren wurde bei Dominik die feste Spange entfernt. Er hatte ja die Metallhalterungen auf den Zaehnen befestigt, durch die Draehte liefen und zusaetzlich musste er teilweise Gummibaender tragen, um den Kiefer zu richten.
Das sah in etwas so aus:
On 03/16, it was a special and long anticipated day for Dominik: his brackets got removed after having those for about 2 years. he had brackets fixed to his teeth, with wires going through as well as wearing rubber bands to bring the jaw into the correct position.
vor dem entfernen/
before removing
und sie sind ab/
the brackets are gone
Wir mussten dann noch eine kurze Zeit warten, da sie die rausnehmbare Spange sofort anfertigten. Dafuer wurden sofort noch Abdruecke genommen. Wir erwarteten so etwas:
We had to wait a bit since they took impressions and made his retainers right away. We were expecting something like this: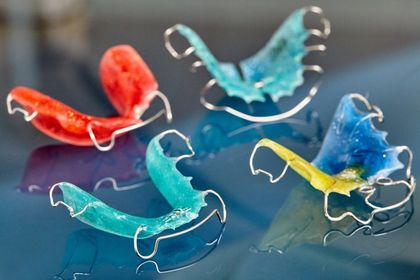 anstatt dessen bekam er eine durchsichtige Spange fuer oben und unten
instead he got some invisalign (retainers) for the upper and lower row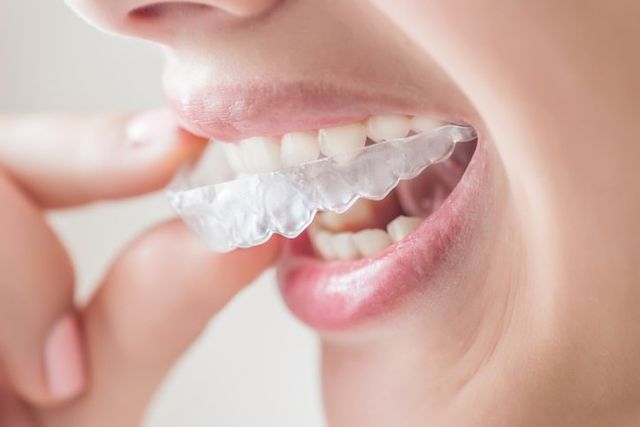 Es dauerte noch mal eine Woche bis er sich daran gewoehnt hatte, aber Dominik ist froh, dass er diese nun beim essen einfach rausnehmen kann. Die Invisalign muss er nun 1 Jahr lang 23h am Tag tragen, danach ein Jahr nur noch nachts, und danach ein bis zwei Naechte pro Woche als Empfehlung.
It took Dominik about a week to get used to the invisalign, but he is quite happy that these are easily removable while eating. These invisalign he now has to waer for a year 23hrs a day, another year at night, and after that 1-2 nights a week.
Weil die Frage auftauchte: das Ganze ist mehrheitlich Privatvergnuegen. Wir hatten als Gesamtsumme etwas ueber $6000. Allerdings hatten wir Glueck und es kam einen einmaligen Zuschuss (einmalig im Sinne von: einmal pro Lebenszeit solange man bei dieser Versicherung ist) von $1200 da wir eine gute Zahnversicherung haben, aber da meinte selbst der Arzt, das ist recht selten und beglueckwuenschte uns.
We paid over $6000 for the brackets etc. We got lucky with a good dental insurance, they reimbursed $ 1200 of the total amount. Even the orthodontist congratulated us to this insurance since this is rather rare.